Open For Business! Instructions for Posting
You asked! We listened!
The Chamber has modified the Hot Deals membership benefit so that it is a resource page where you can post your service and operations updates directly to the Chamber website for the community to view. Each time a new posting is added, an alert is also posted to the Chamber's Facebook and Twitter accounts, providing additional exposure. You are strongly encouraged to take advantage of this FREE resource that is included in your membership to keep your company in front of the public as much as possible. To view fellow members' posts, please click here.
We are committed to continuing to help you during this crisis, during recovery, and back to prosperity. This is what we do. Your business is our business!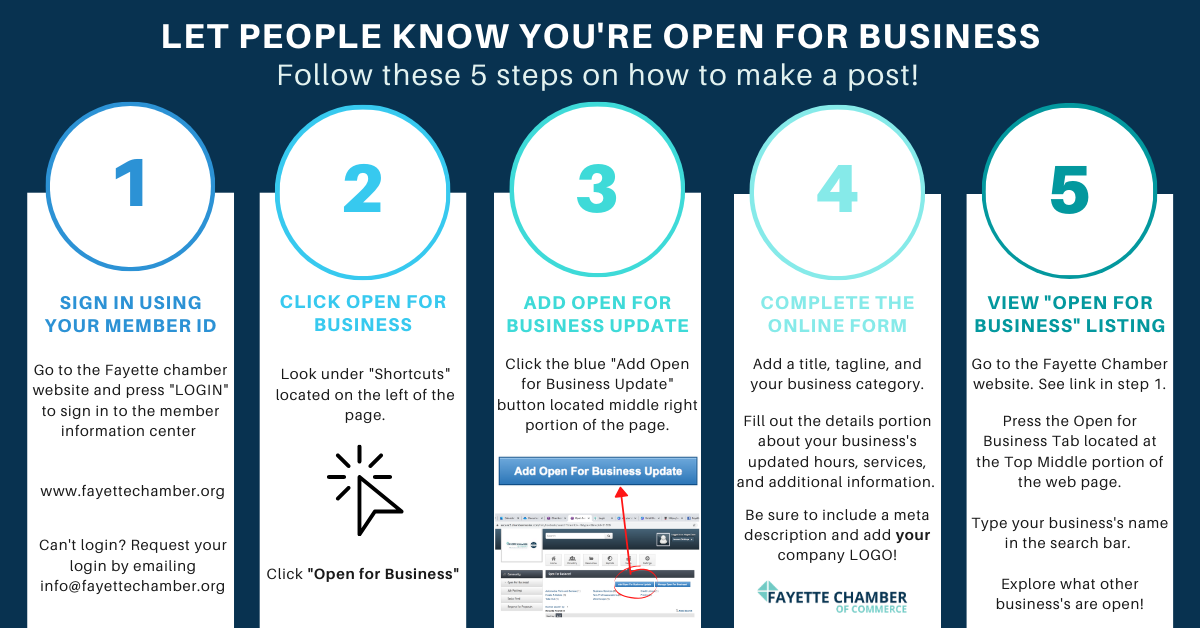 Instructions for posting your information:
Log into Chamber Member Information Center (MIC). Members log in to their MIC from the Chamber website homepage. (Don't have a MIC login? You can create one on the login page. While you are in your profile, review your company description, your current business hours, your active reps, etc.)
Select "Open for Business!" from the Shortcut menu on the left.
Select "Add Open for Business Update" and add your information.
Select "Submit for Approval"
Staff will review each submission and reserves the right to make edits to spelling, grammar, etc. that would not affect the intent of the posting.
Helpful Tips:
Upload your business' logo so the community can quickly find you.
Let the community know how you are currently operating and any special offers you would like to promote.
Be able to include links for an easy member to member engagement.
Use the "Manage Open for Business" tool in the MIC to make edits to your post if anything changes.
Don't forget "keywords" that you want your business to be associated with to be visible to searchers.
Please note: Keywords need to be included in the title. The tagline and description are not included in a keyword search.